Jodie Holmes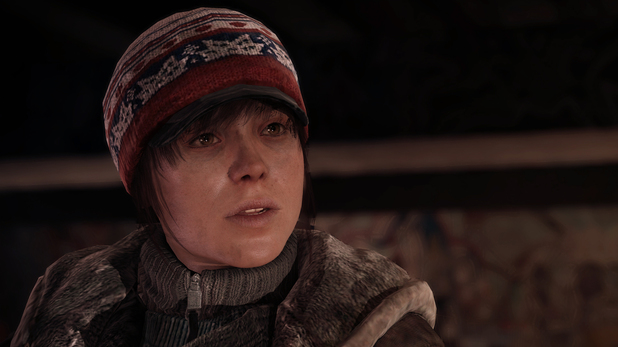 Jodie is the main protagonist of Beyond Two Souls, and is based and modeled around Ellen Page. Beyond Two Souls will follow Jodie through 15 years of her life, from age 8 to 23. Progression in the game will require interaction with the ghostly presence Aiden, and advancing the plot will uncover the secrets of the afterlife and her role in the spirit world.
Early Years
Jodie Holmes is a troubled eight year old who is born with a latent psychic ability and connection to a mysterious entity known as Aiden. Though she thinks of this ability as a gift in the beginning, she begins to think of it as a curse. After a divorce, her mother Sarah remarried; as a result, Jodie also has a half-brother. After experiencing several nightmares and unexplained occurrences, Jodie's parents become more and more worried; this series of events finally culminates in Aiden attacking her brother unprovoked. After this incident, Jodie's parents remove her from their family, taking her to a CIA research facility. The facility, run by government scientist Nathan Dawkins, focuses on developing and researching Jodie's abilities. Nathan Dawkins takes a very personal interest her abilities due to his own personal tragedy, and works with Cole Freeman; his deep personal interest soon causes him to take on a surrogate father role to Jodie, which is only bolstered by Jodie's stepfather's remarks that she is "a monster" and his efforts to cut all ties to her.
Housed in a specially built bedroom equipped with CCTV cameras and a double sided mirror, Jodie endures increasingly complicated and invasive tests of her latent abilities. During one of her tests, she is asked to use predict shapes on cards and move objects with the assistance of Aiden; Aiden quickly becomes aggressive, a trend which continues into further tests.
Teen Years
As Jodie grows older, her powers become much stronger. With newfound abilities and a desire for increased freedom, Jodie begins to rebel, demanding access to friends and the outside world. She even tries once to escape but is quickly caught and placed back in her room with double the cameras and protection. Though Nathan feels bad for her and wants her to be free, she is not granted many of her demands in an effort to make sure she is safe. With stronger powers, the CIA begins to see in her a great talent for combat and potential as a weapon. Implementing a close quarters combat and weapon training program, the CIA slowly begins to turn Jodie into an effective soldier. Jodie is then sent over-seas as a field agent for the CIA; while serving, she develops a romantic interest in her instructor. After returning home, she is allowed to move into her own apartment while still serving quick deploy missions. During this time, her role as tool and weapon begins to weigh heavily on her psyche, ultimately causing a nearly-successful suicide attempt.
Escape and Being a Fugitive
After returning from a long-term overseas mission, Jodie's life begins to tear at the seams. After discovering that her instructor did not truly share her romantic interests, instead using her to progress his own career. Facing a life of permanent slavery to the CIA, Jodie mounts a daring escape from the research facility, reluctantly leaving Nathan behind. After escaping, Jodie becomes a fugitive from the government, becoming a homeless vagrant.
Screenshots